<! Posted 05/16/01 SaveTheBuhl.org>
Buhl Memorabilia
---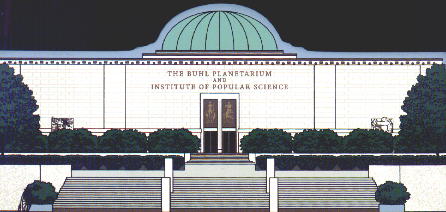 Buy A Buhl Planetarium Memorial Plaque
---

- Buhl radiometer


- Icarus Day T-shirt


- 1986 Robot Olympics T-shirt


- Real Live Robots T-shirt


- Spatter T-shirt


- Buhl Experience


- Junior Scientist T-shirt


- Hands-On experience


- Real Live Robots materials and info

---

- Buhl Robots makes local newspaper


- Science and Engineering Fair poster


- Lunar Sample certificate


- Science Award pins


- Buhl coffee mug


- School Science Fair


- Star Console


- Twenty Two Year pocket calendar - FRONT


- Twenty Two Year pocket calendar - BACK


- plan-uh-TAIR-ee-mm ... Famous Five

---

- MURDER in the planetarium!


- 50th Year pin


- School Science Fair pin - FRONT


- School Science Fair pin - BACK


- Buhl pin collection


- Science Fair robot event ribbon


- Pittsburgh is our home. We like it here . . .


- Buhl 50th Anniversary pin


- Lives Touched - Front Cover . . .


- Lives Touched - Dedication

---

- One of Buhl's first computers


- Buhl Library Book identification label


- An example the kinds of rare and first edition books from Buhl's library

---
The images displayed are copyrighted and supplied for reference and educational purposes only. The inclusion of these images does not imply or construe an association with or an endorsement of the content material contained within this website. No other use of these images (including publication) is expressed, implied or construed. Permission for image use beyond these constraints must be secured in writing from the owners of the copyrights. There are no exceptions.

---

Back To Lobby

---
&copy 2001, 2002, 2003, 2004 SaveTheBuhl.org